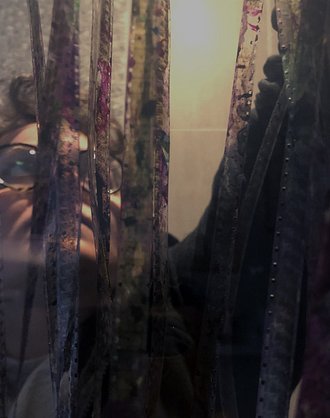 Affiliations
Vidéographe : Member of the Board of Directors
MENA Film Festival Vancouver: Member of the Board of Directors
Société d'histoire de la seigneurie de Chambly
UNIVERSITY OF CONCORDIA: Centre for Oral History and Digital Storytelling: Community Affiliate
Zoom out / Hors Champ: Member of the editorial committee
Chantal Partamian is an experimental and documentary filmmaker, as well as an archivist. Their work delves into the intersection of celluloid, memory, obsolescence, and political imaginaries, creating reflections on themes such as erasure, denial, repetition, and blur. Through a combination of experimental short films, film scratches, and documentaries, Partamian explores issues of justice, migration, identity, gender, and conflict, employing a diverse range of artistic practices.
Partamian's work has been presented at multiple festivals in Germany, Canada, Lebanon, Armenia as well as France, Egypt and Croatia. It includes Chère N. (Jury and Audience award Dresdner Schmalfimtage 2007), Epistemic Space, in collaboration with the Armenian-Turkish cinema platform of the Apricot Film Festival Yerevan International Festival, Houbout a poetic essay, which very briefly explores fragments of a distance relationship, and Sandjak an exercise to dismantle the space of the Sandjak refugee camp in Beirut.
In addition to their individual projects, Partamian has collaborated on numerous films of varying lengths, serving as a cinematographer and/or senior editor. They have also taken on roles as a producer, trainer in guerrilla filmmaking, and social media and filmmaking consultant. They are also an active member of the editorial committee for "Hors champ" and "Zoom Out," two renowned publications in the field of cinema. In April 2020, Partamian initiated an online project called "Temporal Assemblages" on Instagram, drawing inspiration from Vinegar Syndrome and showcasing unique video compilations under the username @Katsakh.
Publications
Convergence : Association des archivistes du Québec (AAQ): Les archives ne font pas histoire par elles-mêmes. Topologie d'une absence, Février, 2023

Analog Cookbook, Issue 5 , Analog futures, Entretien autour du projet " Katsakh", 2022

"Nous", Hors-Champ, revue de cinéma en langue française. Septembre / octobre 2021

Burnt Video art and experimental film festival. Artist response, Edition 3 Program 4, November 2021

"Unlayering the Other: a Queer Armenian Experience", Kohl Journal: Vol. 2 No. 2 | Winter 2016

Fragmented Magazine Issue 01 : Location, video showcase curated by Eleanor Juergens and Catalina Giraldo