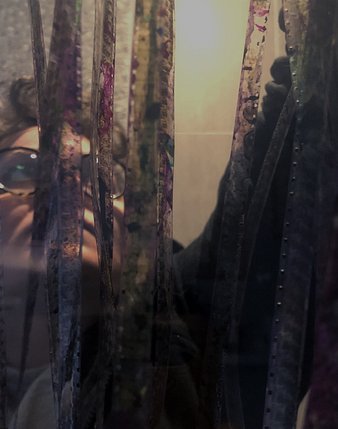 Affiliations
Vidéographe : Member of the Board of Directors
MENA Film Festival Vancouver: Member of the Board of Directors
Société d'histoire de la seigneurie de Chambly
UNIVERSITY OF CONCORDIA: Centre for Oral History and Digital Storytelling: Community Affiliate
Zoom out / Hors Champ: Member of the editorial committee
Chantal Partamian is a filmmaker and archivist known for her exploration of themes like migration, identity, conflicts, and obsolescence. She primarily works with super 8mm and found footage. In her role as an archivist, she focuses on preserving and restoring reels from the Mediterranean region while conducting research on archival practices in conflict areas. Partamian's films have gained recognition and awards at numerous festivals and are distributed by Vidéographe, Groupe intervention Vidéo (GIV), and the Canadian Filmmakers Distribution Center. They have reached audiences at various international festivals, spanning Germany, Canada, Lebanon, Armenia, France, Egypt, and Croatia.
Beyond her individual projects, Partamian has contributed to numerous films in various roles, such as cinematographer and senior editor. She has also taken on responsibilities as a producer, a trainer in guerrilla filmmaking, and a consultant in social media and filmmaking. Additionally, she actively participates in the editorial committees of "Hors champ" and "Zoom Out," two esteemed cinema publications.
In April 2020, she initiated the "Temporal Assemblages" online project on Instagram, inspired by Vinegar Syndrome—a film degradation process. Operating under the username @Katsakh, it encompasses three components: "Katsakh: Mediterranean Archives": A personal collection of super 8mm and 16mm non-fiction films capturing Eastern Mediterranean towns and villages from the 1930s to the 1970s. "Capsules and Experiments": A creative exploration of celluloid's materiality and the interplay of temporalities through experimental filmmaking. And "Obsolescence": A compilation of cherished and valuable obsolete frames and footage.
Publications
Exploration des traces cinématographiques algériennes : une conversation avec Nabil Djedouani, Hors-Champ, revue de cinéma en langue française. Juillet/Août, 2023

Traces: Analog Cookbook, University of North Carolina Press, Issue #8, 2022: Analog Erotica, 2023

Les archives ne font pas histoire par elles-mêmes. Topologie d'une absence,Convergence : Association des archivistes du Québec (AAQ): Février, 2023

Entretien autour du projet " Katsakh", Analog Cookbook, University of North Carolina Press, Issue #5, 2022: Analog futures, 2022

"Nous", Hors-Champ, revue de cinéma en langue française. Septembre / octobre 2021

Burnt Video art and experimental film festival. Artist response, Edition 3 Program 4, November 2021

"Unlayering the Other: a Queer Armenian Experience", Kohl Journal: Vol. 2 No. 2 | Winter 2016

Fragmented Magazine Issue 01 : Location, video showcase curated by Eleanor Juergens and Catalina Giraldo